Montgomery Irrigation
Serving Maryland, Virginia & Washington DC
Montgomery Irrigation Professional Contractors Cover All The Following Service Areas:
Maryland including Harford, Baltimore, Carroll, Frederick, Howard, Montgomery, Anne Arundel, Prince Georges, Charles County and Southern MD, Washington as well as Queen Annes, Talbot, Dorchester, Kent, Wicomico & Worcester on Maryland's Eastern Shore.
Richmond VA including Chesterfield and Henrico County
Northern Virginia including Fairfax, Falls Church, Alexandria, McLean, Arlington, Loudoun, Prince William and Fauquier VA.
Washington DC and Charles Town WV areas.
Sussex County DE
Montgomery Irrigation is a full service irrigation contracting company serving Maryland, Sussex DE, Northern Virginia, Washington DC, Richmond VA, Virginia Beach, and Charles Town WV areas. Our company goal is to provide the highest level of customer service while providing quality products and services. In order to achieve this goal, we must provide our associates with the best possible training, equipment and support. The key to success in our organization is the people who work for it!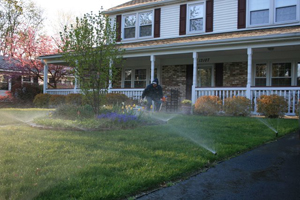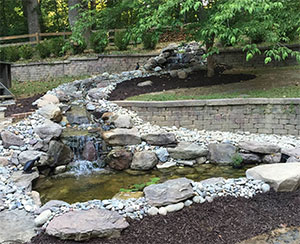 Our services include:
Irrigation System Design
Irrigation System Installation for your Gardens, Lawns, Landscaping
Irrigation Maintenance - Spring Start Up, Summer Inspections, Fall Winterizations
Irrigation Repairs - Waterlines, Sprinkler Head Repairs, Valves, Pumps, Controllers
Lawn Irrigation System Service
Drip Irrigation for Potted Plants, Gardens, Shrubs & Flowers
Irrigation System Audits
Pump System Installation and Service
Drainage Installation and Service
Landscape Lighting Installation and Service
Installation and Service of Pond Aerator and Water Features
Installation and Service of Ponds and Pond-less Waterfalls
The type of customers our company provides irrigation services for include:
Residential Homes
Commercial Businesses
Athletic Fields
Golf Courses
High Schools
Tennis Courts
Nurseries and many other commercial businesses
We are proud members of The Irrigation Association, The Landscape Contractors Association, Sports Turf Managers Association, and the Virginia Irrigation Association, and hold the following certifications: Certified Landscape Irrigation Auditor, Certified Irrigation Contractor. We can service and repair all brands of lawn irrigation and sprinkler systems. Our company has locations in Maryland, Northern Virginia and Richmond VA for fast service. Call or email for details.
Thinking GREEN?
We are, too, and have been following water conserving practices for many years! Talk to your technician or call us in the office to talk about all the water saving devices and practices that we have available for your irrigation system.
Backflow Preventer Testing
Montgomery Irrigation now has two certified backflow testers on staff. Many jurisdictions require annual testing of your backflow preventer to ensure it is working properly. Even where this is not required we highly suggest testing them yearly to ensure they are working properly to ensure your water supply does not become contaminated.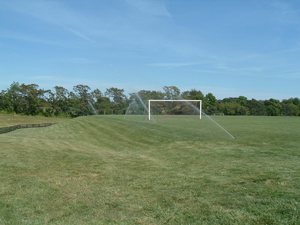 Take a look at our 5 star reviews!

Review by Kristin,
"We highly recommend Montgomery Irrigation; always prompt and professional. Today Lusvin replaced multiple sprinkler heads which had been damaged over the winter and resolved an issue (finally) with one trouble spot in particular that caused super saturation of one area of the lawn. Couldn't be happier! Thanks!"
Review by Brad,
"Montgomery Irrigation has provided great service and reliable equipment to our home for over 10 years now. They arrive on time and finished within the estimated work window. They installed our 12 zone underground irrigation system. Good company."
Join Our Email List